Best Vehicles for Car Seats? Five Vehicles That Fit Them
August 14, 2018
There are few things more rewarding in life than having children.  But with so many child-related things to worry about, your vehicle may be the very last item on your list.  So what are the best vehicles for car seats? While many people will default to a minivan (they're actually awesome now), many more of us are team SUV all the way. That is, until you try to fit more than one car seat into your previously right-sized hatchback.
With the exception of the smallest cars and crossovers, most vehicles today can, in fact, accommodate two car seats without issue, but how about three?  A quick Google search will turn up page after page of blogs and articles on how to jigsaw-puzzle-fit three car seats into the back of a Honda Civic, but the rest of us can just shop for a vehicle that can meet our needs without the need for a game of Twister every time we take our kids somewhere.
Here is our (nowhere near comprehensive) top 5 list of the best vehicles for car seats:
Honda Pilot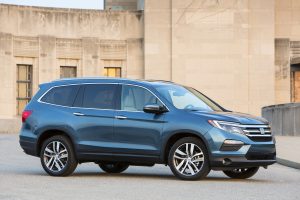 Built on the platform originally created for the Odyssey, it's no wonder that the Pilot has some street cred when it comes to kid-hauling.  Earlier generations of Honda's largest SUV were more utilitarian in appearance, but the Pilot's minivan soul peeps out more and more as time goes on.  The latest models not only fit three car seats in the middle row but feature available third-row seating for even more capacity.  Honda has also packed the Pilot with family-pleasing tech like an available rear-seat entertainment system, USB and power outlets, and both a camera and intercom system for the driver to monitor and communicate with rear seat passengers.
Chrysler Pacifica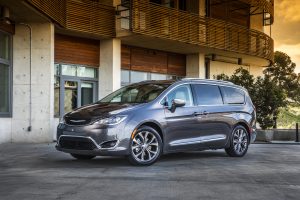 As Fiat Chrysler America (FCA) phases out the Dodge Caravan, the Pacifica has gotten all of the minivan love from the company.  As a reminder that having a large family doesn't mean you don't want style, the Pacifica is one of the best-looking minivans on the market today.  It's also comfortable, with easy and flexible seating options and plenty of entertainment tech.  The Pacifica can be outfitted with luxury-level finishes like full leather throughout, a panoramic sunroof, and rear entertainment system.
Dodge Challenger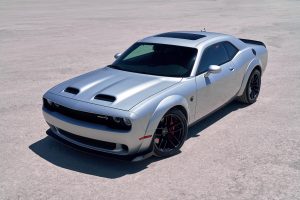 Surprise!  A coupe made the list.  The Challenger may not be top of mind when shopping for a family car but having kids doesn't mean you have to cash in your fun time.  As Ford and Chevrolet move the Mustang and Camaro deeper into sports car territory, Dodge has proudly planted the Challenger's flag on the muscle car hill.  This means that, while the Mustang and Camaro focus on shrinking their profile to go 'round corners better, the Challenger doesn't have to be so small to get its point across.  With a wide and spacious cabin, Dodge's rowdy coupe can be a great option for a second car and can still carry car seats with relative ease – just keep in mind there are only two doors and front seats only fold so far.  The Challenger can also be had with up to 797 horsepower in 2019's SRT Hellcat Redeye model, which is more than enough to get the kids to school.
Ford Taurus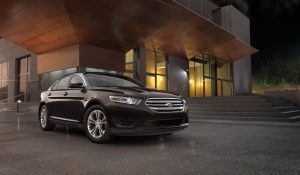 Hauling perps to jail isn't the only use for the Taurus' back seat.  It's also wide enough for three car seats.  Ford's mainstay police fleet vehicle makes a great family hauler, and while it'll go away with the company's product line restructure soon, there are plenty of options on the used market.  The Taurus rides on a platform shared with the Ford Flex and Explorer SUVs, which means that the large sedan's dimensions rival those of the brand's most reputable family vehicles.  Ford also offers the Taurus in a variety of trims levels and with several options packages, so there is a car to fit nearly every budget.  It can even be configured with all-wheel drive.
Honda Ridgeline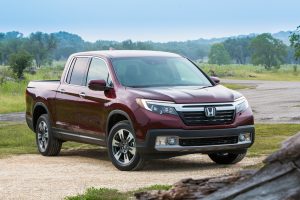 Two Hondas on the list, I know.  The Ridgeline is worth including here, because it offers most of the utility of a pickup truck while retaining the interior seating space of an SUV.  Because it's so similar to the Pilot, the rear seat is wide enough to manage three car seats.  The Ridgeline also manages the comfort levels of an SUV, which means that the front passengers aren't left out either.  Sharing the Pilot's interior features gives the Ridgeline access to a sunroof and leather seating.  It doesn't offer rear seat entertainment, however, so it that's important you'll have to hit the aftermarket.
One big caveat to this list is that with enough research and shopping (and flexibility), nearly any vehicle can fit three children across in the rear seat.  If there's a question about whether or not your current vehicle is able to fit seats or if your installation is safe, most fire departments and even some car dealerships offer classes and car seat checks for free.