Get a Winterized Vehicle Without Breaking the Bank
November 14, 2019
With winter already here, now isn't particularly the best time to shop for a winterized vehicle, since they're in demand, but there are deals to be had. Before you start shopping, keep a few things in mind:
Check the tires: No matter how good your all-wheel drive system is, or how many snowy parking lots your dad made you drive across as a teenager, a set of worn out or low-quality tires will cause problems when the weather gets bad. Also make sure that you're getting tires that are appropriate for the season. Nothing is worse in winter than nice-looking tires that were made for summer driving.
Get an inspection: This is a requirement for used winterized vehicles, no matter what time of year you're buying, but it's especially important for vehicles that are expected to carry you and your family through rough weather. Get an independent shop to check your prospective purchase over for rust, collision damage, and mechanical issues before buying.
What-wheel-drive: All-wheel drive and four-wheel drive are great for bad weather, but they won't help your vehicle stop any faster. You can get away just as well in winter with a front-wheel drive vehicle that has good tires.
Now that you know what to look for, you can start searching for the perfect winterized vehicle. Here are three picks for good cold-weather vehicles that won't break the bank:
Toyota RAV4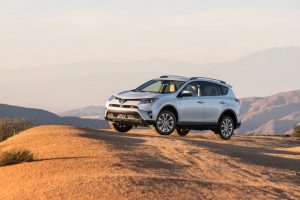 There's a good reason the Toyota RAV4 has been around for as long as it has. It's solidly built, has a decent number of standard features, and its supremely comfortable as a daily driver. Used models are extremely common, which makes finding a good deal very easy. The Toyota offers generous cargo space, available all-wheel drive, decent fuel economy (for a crossover), and top-notch reliability ratings. You'll have to go back quite a few years to find one with a V-6 engine, but models from more recent years have been offered with a hybrid powertrain that increases fuel economy greatly.
Subaru Legacy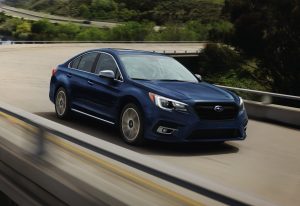 Subaru just overhauled the Legacy for 2020, which means that models from just a few years ago are seeing big discounts. The car features all-wheel drive and Legacy models from more recent years have come with Subaru's excellent EyeSight safety technology. The Legacy is roomy and comfortable for both front- and back-seat passengers and makes a great family vehicle for people living where the air hurts their faces. The Subaru's interior feels a bit more upscale than its competitors, especially in higher trim levels, and the ride is smooth.
Honda Civic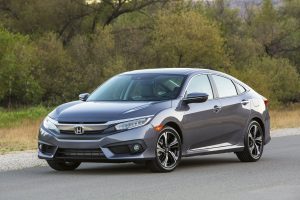 Yeah, it's not all-wheel drive. That's actually not a requirement, despite what you may have heard. If you live where snow falls regularly, a good set of winter tires on a front-wheel drive car will do the job just fine. The Civic's stellar reliability ratings and low costs of repair make it even more appealing for cold weather drivers. If you can live without the latest and greatest, a Honda Civic from a few years back won't break the bank and will continue serving you and your family for years to come.
[cta id="1957" vid="0"]