Want A Deal On A BMW M2? Try A 2001-2006 BMW M3
January 14, 2016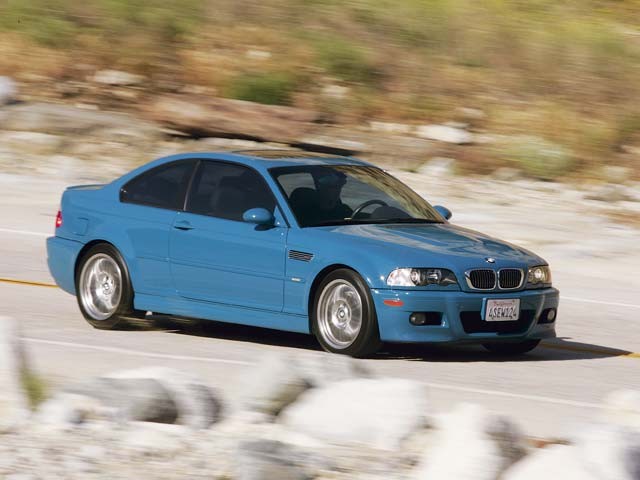 Want a 2016 BMW M2? Of course you do, who wouldn't? The fully flared body houses a light chassis that deftly tackles anything you can throw at it, not to mention a glorious twin scroll turbo inline six that's good for 365hp and 343 lb-ft of torque. In addition to it's aggressive look, and having the power to back it up, it features a comfortable interior with excellent ergonomics, and just the right amount of modern creature comforts. Rounding out the attractiveness of the package is the recently announced price of $52,695. Now that's still a good chunk of change, but when you consider how much car you're getting in exchange, the going rate seems downright reasonable. That being said, this is going to be a limited production car, and much like it's predecessor, the 1M, the M2 is expected to hold it's value, possibly even exceed it's MSRP in years to come. So if you're hoping to get a deal on an M2, you're out of luck because these won't be going for anything less than what BMW is asking.
So where can a Bimmerhead find a deal on a lightweight M coupe? Turn to the used market, and look for an E46 M3, the closest relative to the M2 that can be had for a reasonable amount.
That the E46 M3 is now an excellent bargain performance car isn't a secret. As depreciation has done its thing in the past couple years, numerous outlets have extolled its virtues, but there's still a debate over just how good of an investment it is. Issues with the single clutch auto-manual "SMG" transmission are particularly off putting, but that's ok because the manual transmission is the one you really want anyway. As used car guru Tavarish recently explained, your best bet for finding a clean E46 may be to go after an adult owned SMG model, and then swap in the 6 spd manual, but should be averse to paying for parts and labor, you'll just need to dig deep, and bring your A game when haggling over price.
The E46 crowd is quite diverse, ranging from adult owners who've taken exceptional care of their cars, to those folks who recently picked up rough examples for next to nothing, and everything in between. When looking for any used car, especially sporty German ones, you should go for the most car you can afford. Cutting corners with this style of vehicle won't get you anywhere, so when you see the $8k E46 deal that is too-good-to-be-true, just know that it most definitely is. These cars are beloved by many, nobody who owns one is unaware of what they have, so you won't be getting a hell of a deal that way.
Instead of trying to find the deal of a lifetime on a popular car, accept that you're going to pay close to what everyone else has, and that's fine because generally speaking these cars are a great value. I know their technology is archaic, but that should be of little consequence, if this is the type of vehicle you're after. If you want a car loaded with creature comforts, and modern infotainment, look for a 228i with an M-Sport package, it should do you just fine. If a true M car is what you're after, then you have to make peace with the fact that if your E46 has navigation, it's going to suck. There will be no USB chargers, no AUX jack, and no factory Bluetooth streaming audio. The good news is that you can install a clean aftermarket system to give yourself these modern comforts, and you should because if this car is to be your daily driver, there is no way you'll get by without Bluetooth. You'll go insane taking phone calls on speakerphone, trust me I've been there, it's terrible.
Of course you could choose not to answer your phone when you're in the car, and eschew listening to music as well, instead enjoying the soundtrack of the 3.2L inline 6. It's a delightful motor, especially with an aftermarket intake, and exhaust thrown in the mix. At 333 hp, and 262 lb-ft of torque, the E46 M3 isn't quite as powerful as the M2, but once you've driven one, those numbers will fade from memory. The E46 isn't about 0-60 times, it's about lap times, it's about driver connection, it's about bridging the gap between the old school(E30, E36) and the new (E90,F30), and it makes no excuses about it. It is the happy medium between what BMW was, and what BMW has become, a modern-ish sport coupe that won't fail to excite even the most jaded of enthusiasts.
[cta id="1957" vid="0"]