You Aren't Imagining Things. Used Cars Are More Expensive
April 21, 2021
If you've spent any time shopping for used cars over the past year, there's a good chance you've spent at least part of that time wondering why prices have grown so much. Almost across the board, prices for used cars of all conditions, mileages, and types have increased, leading many to wonder where the ceiling is.
As of April 20, 2021, AutoTempest's users have searched for 20,309,128 cars in 2021, which has given us a load of data to work with. We've seen double-digit increases in pricing for several categories, including crossovers, SUVs, and pickup trucks. Of the 17 brands we studied, only one saw decreases in price in the year-to-date period ending April 30. Jeep and Ram climbed the most, both at 22 percent, likely due to their SUV- and truck-heavy vehicle catalogs.
The table below shows average listing prices for used cars across 17 makes. AutoTempest observed listing prices for both 2020 and 2021 year-to-date, so both reflect information as of April. All but one make – Acura – saw increases. On average, pricing increased 13 percent from 2020 to 2021.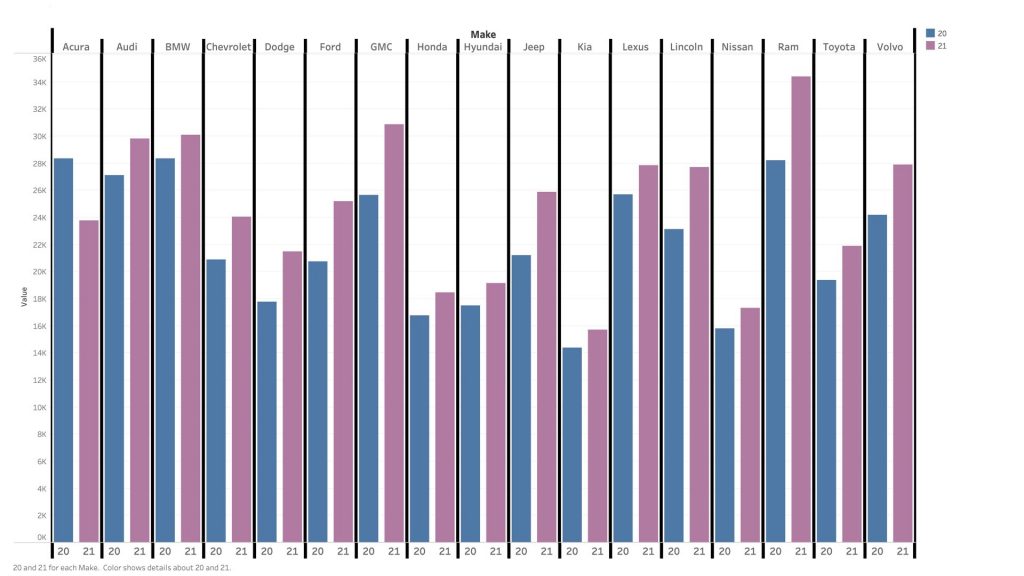 Why Have Prices Increased?
The widespread increase in used cars pricing is an interesting phenomenon, but it's not an unexplained mystery. From a global pandemic to squabbles over international trade, several factors have played into skyrocketing used car sales. Here are two that help explain what's going on.
Pandemic-Related Transportation Changes
Thankfully, much of the world is beginning to climb out of the hole that the COVID-19 pandemic created, through vaccines and public health measures. Even so, people are understandably weary of crowds, which means that many are finding ways to get around on their own. A personal vehicle is the ultimate expression of freedom, and in today's world, a great way to avoid germ-filled subway cars and buses. In any market, an increase in demand leads to an increase in pricing as inventory levels drop. At the same time, people are trading in fewer vehicles and the resulting shortage of used models squeezed prices further.
Chip Shortages
Auto production shut down almost completely at the beginning of the pandemic in 2020, which led the suppliers that were still in motion to pivot to other priorities. This is especially true for microchip suppliers, many of which moved on to making chips for home entertainment devices like game consoles and PCs.
Automakers expected a rough 2020, but sales numbers didn't crater as deeply as expected and demand started returning earlier than initially projected. Suppliers' pivots to other industries meant that they weren't on call to jump into action for automakers, leading to parts shortages for new vehicle production. While some automakers were decently prepared for the shortage, the challenge was large enough to shut down production for several companies, including giant operations like Ford Motor Company's massive F-150 production.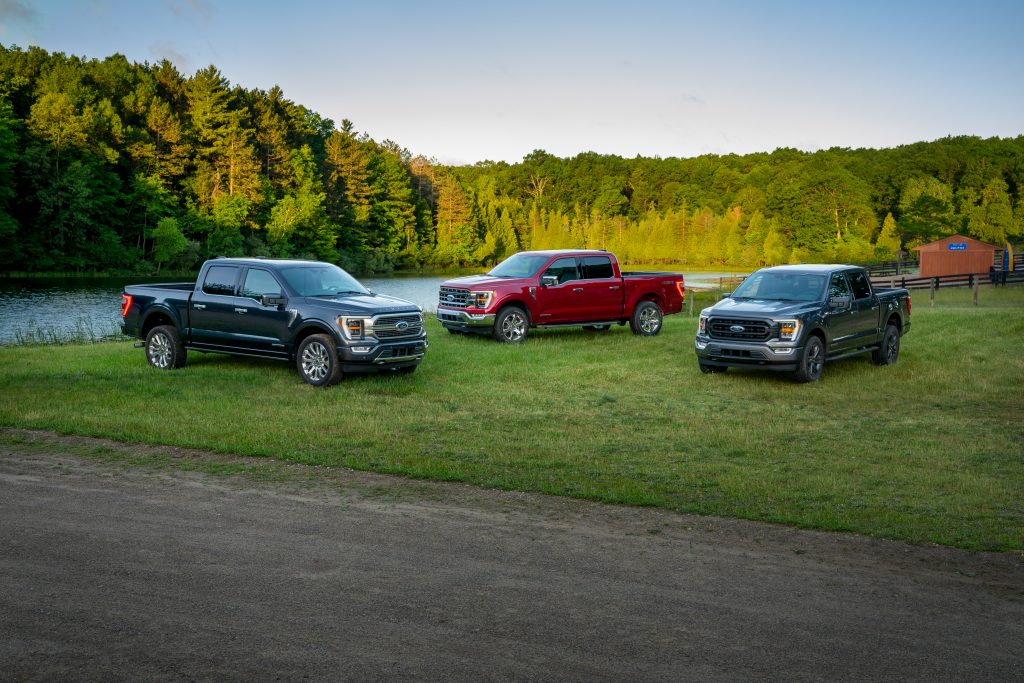 How To Cope With Rising Prices
You're not helpless in the car shopping process. The basics haven't changed, even in the face of climbing prices.
Set a Budget and Do Your Research
Determine how much you want to spend – total, not per month – and stick to that number when shopping. It's easy to become emotional and make decisions that aren't helpful when you see a car that really speaks to you, so having a budget can help reel you back in to reality.
It's also important to know the value of the used cars you're shopping for. Use a pricing tool from Kelley Blue Book or NADA to determine how good (or bad) the deal is. Take the time to research common problems and costs to fix them as well. Purchase price is just a drop in the bucket of total vehicle ownership.
Shop Around
Unless you've found something one of a kind, there's a great chance that the car you're looking at is available at more than one dealer. And if you arelooking for something fairly unique, that's all the more reason to cast a wide net. Keeping that in mind, it's best to shop around to find the best deal and to avoid paying more than you have to. (Fortunately, AutoTempest.com lets you search all the top listings sites at once to make that process easy.)
Get Financing In Order
Financially, the best approach is usually to choose a car you can afford to buy outright, when possible. Of course, sometimes you need the transportation and that just isn't feasible. In that case, it pays to plan ahead. While it's true that you can work with a dealer's finance department to get a loan, taking the time to visit your local bank or credit union can yield much better results. Getting pre-approved will not only tell you how much you can afford, but can also help you see money in interest charges and fees. Having a pre-approved number in hand can also prevent unnecessary haggling and negotiations. (Speaking of negotiations, we always recommend agreeing on a total purchase price before bringing financing into the picture. When the focus is on the monthly payment, it's easy to lose sight of what you're really paying overall.)
Will prices continue to climb? Nobody has a crystal ball, but it's not unreasonable to expect that some of the factors that caused the increases seen so far will stick around for a while to come. We'll run another comparison closer to the end of 2021, but what do you think? Will the price increases keep you from shopping for a used car?