Out & About: Auctions America at Barker Hangar
July 20, 2015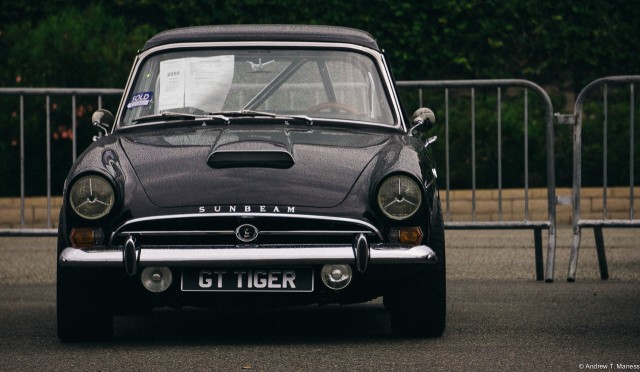 For all the research I've done on classic cars and my deep appreciation for a wide variety of vehicles, I'd never been to a car auction. When I found out that Auctions America was coming to town, more specifically to Barker Hanger just 5 minutes away from my home, I knew I had to go check out the scene.
When I arrived, some much needed rain was falling lightly from the sky, great for our drought ridden state, not so great for taking pictures of classic cars outside. Or so I thought. The water beaded up nicely on the expertly waxed autos and made for some pretty interesting shots. Eventually what was light rain turned to a full on downpour and I headed inside to protect my camera. I watched a Ferrari Enzo sell for nearly $1.75 million and an '84 911 Carrera for $42,500. Oddly enough I think the buyer of the Porsche got the lesser bargain.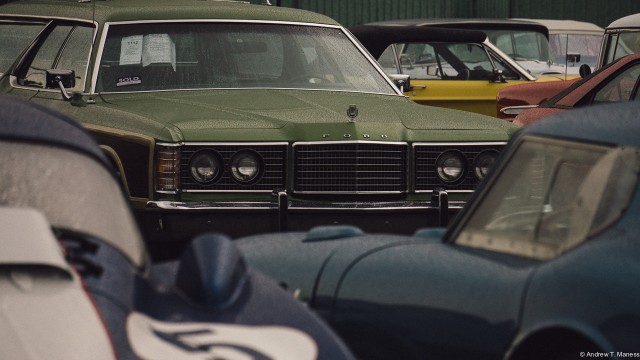 I was hoping that the rain would let up long enough for me to pop back outside and get some more photos, but it showed no signs of letting up so I packed it in after a few hours on site. The auto auction environment is an interesting one, the crowd was eclectic, to say the least. I observed from a distance, watching people plunk down healthy sums for vehicles I have a great respect for, as well as a number that I do not. I think the biggest takeaway from the day was that while the collector car market is strong, there are some big bubbles that will likely burst within the next couple of years. The majority of folks on site were, shall we say of an advanced age, and they won't be around to fuel these auctions forever. As the next generation of collectors takes over, it will be interesting to see what the next big collector market is and while we can speculate all we want, there's not much telling what people will be into. With that in mind, I'll be making it a point to feature vehicles that I think have the potential to be good investments vs just solid daily drivers in our regular Underrated Car Of The Week features.