Malaise Monday: 1979 Chrysler Cordoba 300
July 27, 2015
I have a hard time choosing a vehicle for these posts. The Malaise Era yielded so many automotive obscurities and I regularly find myself delving into the specifics of one car, only to have that information lead me to another. To make sense of the sheer number of different vehicles available from each  of Detroit's automakers during this 10 year period is a daunting task. It is clear to me that the Big 3 were desperate during this era, trying everything they could to get Americans in the door. It seems that the most employed tactic was to revive a once revered model name from "the good 'ol days" and make it a special edition. Case in point, the 1979 Chrysler Cordoba 300.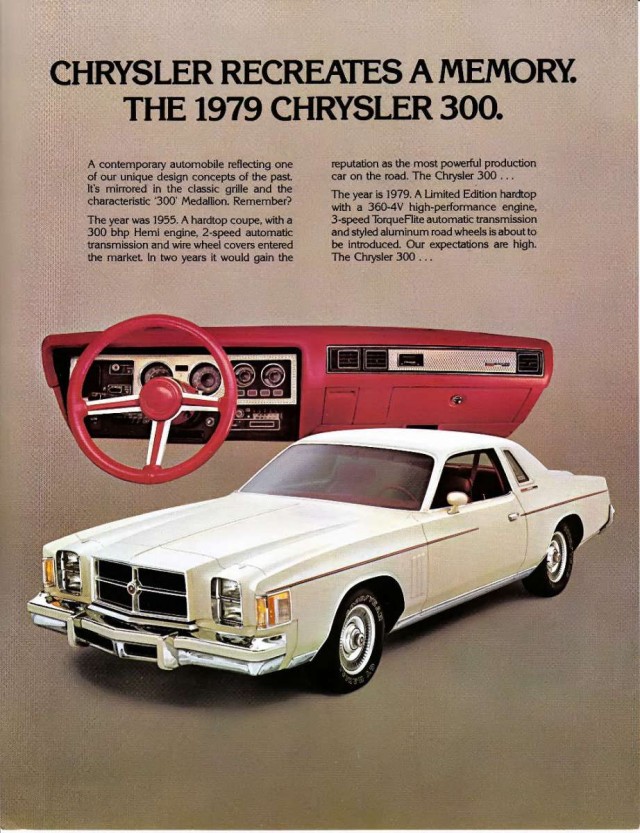 If you read the ad above and heard the voice of Ricardo Montalban in your head, don't worry, you're not alone. The commercial in which he praises the 1st generation Cordoba's fine corinthian leather is the stuff of TV legend, only rivaled by Datsun's Black Gold 270Z commercial in the 80s. Montalban's memorable commercial briefly put the Cordoba in the spotlight. At a time when Chrysler was in deep financial trouble, the success of the Cordoba was much needed. During its initial '75-'79 run, the Cordoba accounted for half of Chrysler's production and saved the brand from bankruptcy.
The car was slightly redesigned for 1978, the round headlights were dropped in favor of a stacked rectangular design that was becoming ever more popular. In my opinion, this is what ultimately sealed the fate of the Cordoba and a number of other cars of the era. The blocky front end made the car appear heavy and harsh, whereas the previously used rounded headlamps made the front end look elegant and welcoming. Of course we have the luxury of hindsight and know that 1978 was more or less the end of the cultural party that had been going for nearly the whole decade. I suppose it is rather appropriate that the alluring design of original Cordoba was dropped for the two final years of production. Culturally the country was a mess. Why should the cars have been any different?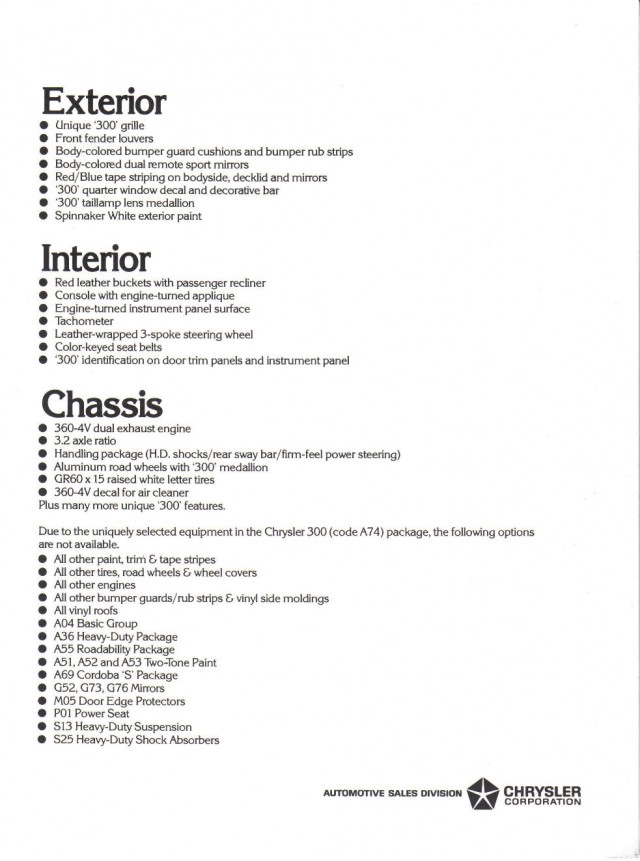 I absolutely love the fact that Chrysler went ahead and told people what they couldn't have if they got a 300. I cannot fathom an automaker doing this in todays market. They'll find a way to accommodate your requests and all you have to do is pay. Perhaps if Chrysler had gone that route, they would have pulled out of the financial nosedive sooner. But they stuck to their guns and told people, if you want a 300, there's no vinyl roof, no two-tone paint, no power seat. I respect them taking a stand, especially since the result was that Cordoba 300s can be easily identified. As luck would have it, when I ran a search on AutoTempest, I immediately found a low mileage, garage queen example.
Stashed away in Sioux Falls, SD, this 1979 Cordoba 300 is a one owner car with just 9,380 miles on it. The seller has all of the original documents and knows the story of the car, which I found to be pretty damn cool. The "Spinnaker White" paint looks to be in exactly the kind of condition you would expect on a survivor car like this and, perhaps most importantly, you'll find red Corinthian leather inside. This is a pristine example of a rare car and it carries the price tag to match. While $23,875 might seem outlandish for a Malaise Era Chrysler, consider that this was a one year car and only one car was allotted to each qualifying Chrysler dealer. I don't know for sure if this is the rarest car to come out of the Malaise Era, but I'd be willing to bet that it is. This certainly qualifies as a piece of cultural history in my book and would be absolutely classic with the vanity plate, KHAAAAN. If you don't know why, then you have some homework to do.
1979 Chrysler Cordoba 300 on Cars.com
Find more Malaise Era Chryslers with AutoTempest!