Future Used Car Review: 2015 Infiniti QX80 Limited
September 3, 2015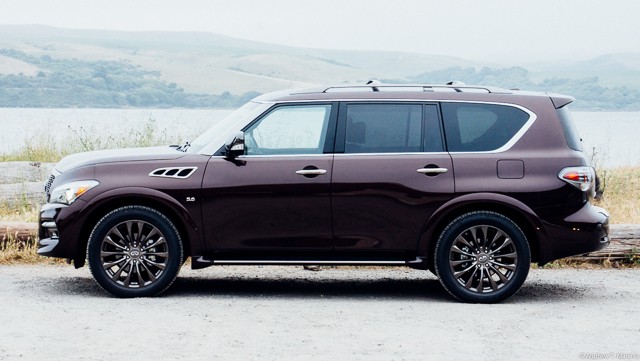 I am not part of the target demographic for a 6,000 pound, $90k, body-on-frame luxury SUV. Most people my age scoff at the notion that anyone could possibly need a vehicle like the Infiniti QX80 Limited, but what many young adults fail to recognize is that there is a world beyond their own. One where wants vastly outweigh needs, and it is in that world where the QX80 Limited finds success.
I don't need Truffle Brown leather seats or open pore wood trim in a vehicle interior, but damn do I want them both. The cabin of the QX80 Limited has a decidedly masculine feel, almost like it was designed to be a mobile cigar bar. It's cozy to the point where I think Infiniti should include a "roaring fire" DVD to be played on the dual entertainment screens in the back. It took no time at all for me to get comfortable in the drivers seat, which is positioned nice and high in order to give you a commanding view of the pavement you'll be gliding over. I would say that it's also to give you a better view of things that you could run over and never know it, but the wide array of safety systems have you covered. Lane departure prevention and adaptive cruise control, keep the QX80 correctly positioned and moving at a safe speed on the highway, while intelligent brake assist and backup collision intervention give you piece of mind around town. The systems take some getting used to, but I can't think of a better application of them than on a big 'ol behemoth like this.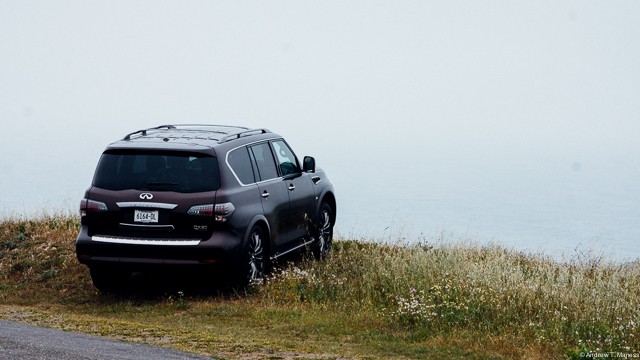 During my week with the QX80 I spent the majority of my time shuttling friends around to various functions, every single one of them made sure to let me know they thought the vehicle was gaudy, but that they were comfortable as hell. It's hard to defend the appearance of the QX80, what with it's whale like snout, and senseless chrome trimmed fender vents. The styling is brash, a solid attempt to blend the traditional big box body-on-frame SUV look with Infiniti's flowing design language. There are some things that work, like the appearance of the taillights, and some things that don't, like the positioning of the headlights. Seriously, the lowness of the headlights in relation to the height of the hood drives me nuts, more so than the chrome trim found all around the vehicle. However, I have to think that they were placed there as a courtesy to drivers that find themselves in front of a QX80 at night. If that's the case, then well played Infiniti, you chose safety over style, and for that I will award you 10,000 brownie points.
In addition to shuttling friends around Los Angeles, I used the QX80 as shelter for a night during a spur of the moment camping trip on the Northern California coast. Though a friend did have an extra tent, I opted to sleep in the opulent big rig, because why the heck not? I can confirm for you that with the 2nd and 3rd row seats folded flat, the QX80 is indeed a comfortable place to get some shuteye. I'd recommend a sleeping pad of some sort, but even with just the comforter that I wrapped myself in providing padding, I managed to get quite comfortable. The aroma of semi-aniline leather was certainly a welcome relaxant, though I can only imagine how much faster I would have dosed off with one of those aforementioned "roaring fire" DVDs.
The second day of the trip we headed out in search of secluded beaches on some of the roughest roads I have ever seen, and given that I'm from Vermont, that's saying something. The QX80 transferred ZERO noise, vibration, or harshness from these weather worn surfaces. Thinking back on it I still can't believe how smooth the ride was, especially since the damn thing rides on 22″ rims with 275/60R/20 tires. If ever there was an ideal proving ground for how good the Hydraulic Body Motion Control system on this vehicle is, these roads are it.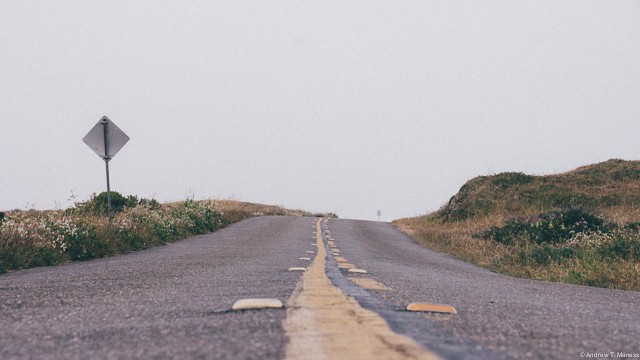 Narrow, battered by the elements, and in complete disrepair, one would think the coastal lanes of Point Reyes National Seashore are the last place you'd want to take a body-on-frame SUV. That's probably true in most cases, but the QX80 Limited was never anything short of mellow. In addition to soaking up the many imperfections, it was easy to operate, even with all the safety system turned off. Most vehicles of this size don't effectively communicate your position on the road, but in spite of itself, the QX80 actually let me know what was going on the old fashioned way, with the steering wheel.
Make no mistake, the steering is light and rewards laziness, but I always had a good idea of where the front wheels were. In a vehicle of this size, that's rarely the case, heck in vehicles not of this size it's rarely the case. I wouldn't recommend taking the QX80 for a spirited run in a canyon or anything, after all body roll is still a major factor. But in a pickle, you'll have enough confidence that you need not freak out should you find yourself off line mid corner. I should know, I took the PCH south through Stinson and Muir Beach. Not a single butt clenching moment.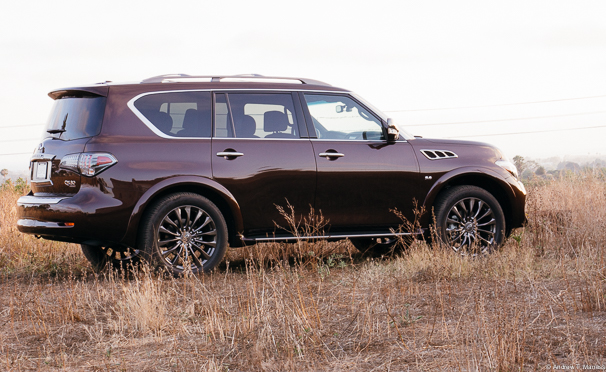 So, who is this big brown whale for? Who does Infiniti think will drop $89,845.00 on an SUV? I haven't the slightest idea, but I know they're out there because I've seen them on the roads of Los Angeles and New York City. The majority of buyers likely have one thing in common, they have more money than they know what to do with. I'm not going to sit here and tell you that the QX80 Limited is a smart purchase because it is most certainly not. There are far better things you can do with $90k, like buy a new Cayman GTS for you and an old Suburban to take the family on vacation in. However, if the want for a 13 speaker BOSE sound system, the finest leather found outside of a certain British vehicle, and pieces open pore Ash wood crushes the need to be pragmatic, then the QX80 Limited is the luxury vacation vehicle for you.
Engine: 5.6-liter V8, sounds pretty good too.
Horsepower: 400, feels like it.
Torque: 413 lb-ft, really feels like it.
Drive System: AWD
0-60 mph: Quicker than what feels reasonable.
Top Speed: You don't want to find out.
MPG: 14/20/16 city/highway/combined, LOL
MSRP: $66,350 (base) / $89,845 (as tested)