Want A Deal On A New Mercedes E-Class? Try A Hyundai Genesis 5.0
December 9, 2015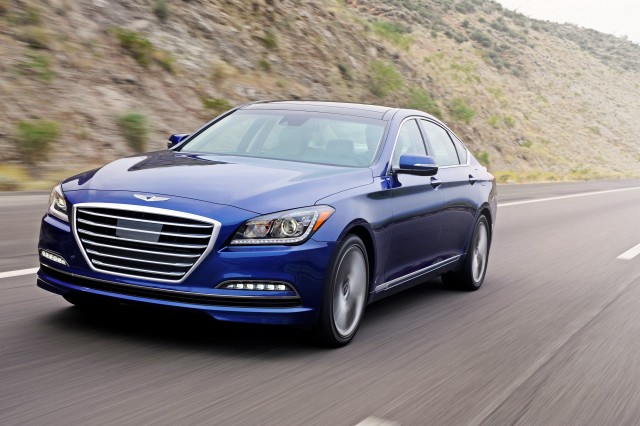 The Mercedes E-Class has long been the definitive midsize luxury sedan, despite the best efforts of other automakers to strip it of its title, it just hangs in there year, after year. Being the only midsize luxury sedan with a 3 pointed star emblem affixed to every vehicle, it's not hard to understand why the vehicle still sells well. Badge snobbery is a real thing, and nowhere is that as apparent as it is in this segment. Hedge fund managers and lawyers don't work tirelessly so they can drive a Hyundai, they want the best, and they've been told for years that Mercedes is the best.
20 or 30 years ago, that was pretty much the case. A Mercedes-Benz was the most comfortable, and most reliable luxury car a person could buy. Of course back then there was no Hyundai, or Kia, and Lexus, Acura, and Infiniti were just getting themselves organized. Audis were little more than AWD VWs with leather, and BMWs were driven by people who enjoyed driving. The point is that peak quality and innovation were reached when there was basically no competition, Mercedes was truly in a league all its own back in the day.
That's hardly the case anymore. Competition from their countrymen, and foreign adversaries alike has steadily improved, while Mercedes has been content to rest on their laurels. The corporate mindset seems to be "Wealthy people have always bought our cars, and they will continue to do so". To some degree that is true, uninformed people of means will continue to buy into the badge, not caring about whats underneath, or what other options they have that are comparable in quality, but cost less money. Mercedes banks on brand loyalty that's born out of ignorance, and manufactured prestige. What's interesting is the number of Mercedes enthusiasts I know that find nothing appealing about their current lineup of vehicles. Sure, longing for "the good 'ol days" is as common in the automotive community as lying is in politics, but when it comes to Mercedes-Benz, I think those lamenting the current state of the brand may actually have a point.
Why anyone would pay $63k+ for a brand new base model E-Class is beyond me. For a full $10k less, you can get a brand new Genesis 5.0 Ultimate which offers nearly 100 extra horses, and 383 lb-ft of torque vs. the Benz's 354. Also, being that this is the "Ultimate" Genesis, you get every option available included in that $53k price, whereas with the E-Class, you're just getting the privilege of driving a Mercedes, plus some neat-o gadgets found on most B-Segment vehicles.
There is no doubt in my mind that a new Genesis will serve as a luxury daily driver just as well as an E-Class. With an extra $10k(or more) in your pocket you could take it on all sorts of fun adventures, as opposed to having the E-Class sit in the garage on the weekends, so as not to use up any of the precious low-mileage lease miles. Heck, you don't even have to drop all that dough on a brand new Genesis, there are lots of low mileage 2014/'15 examples out there that can be had at great prices. The Montecito Blue model pictured below has just under 11k on the clock, and is priced at $40,904. That's a quite a bargain for a vehicle with matte wood trim, 14 speakers, and a 0-60 time of 5.1 seconds.
[cta id="1957" vid="0"]