Malaise Monday: 1983 Oldsmobile Cutlass Hurst/Olds
July 13, 2015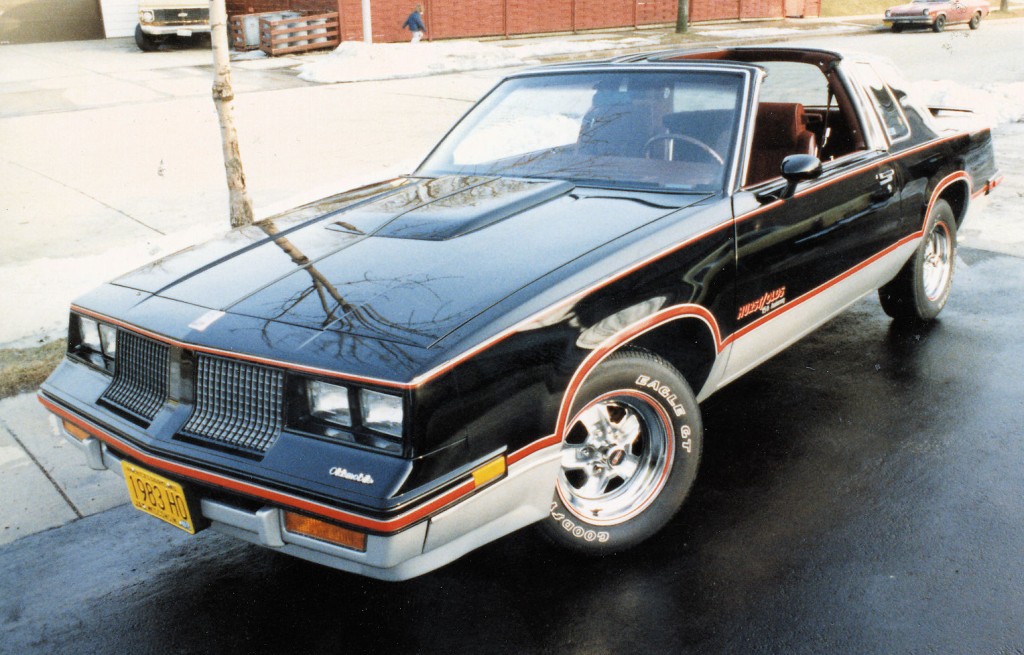 Welcome to the first installment of Malaise Monday in which we take a look at cars from that oh so wonderful period in American history known as "The Malaise Era".
Stretching from 1973-1983, this was the decade in which Americans were treated to underpowered muscle cars, faux-luxury liners, awful econo-boxes and more vinyl than anyone should ever be exposed to.  As bad as it was, there were a few bright spots during these dark times and with this ongoing series, we'll make a case for why these domestic abnormalities should be held in high regard.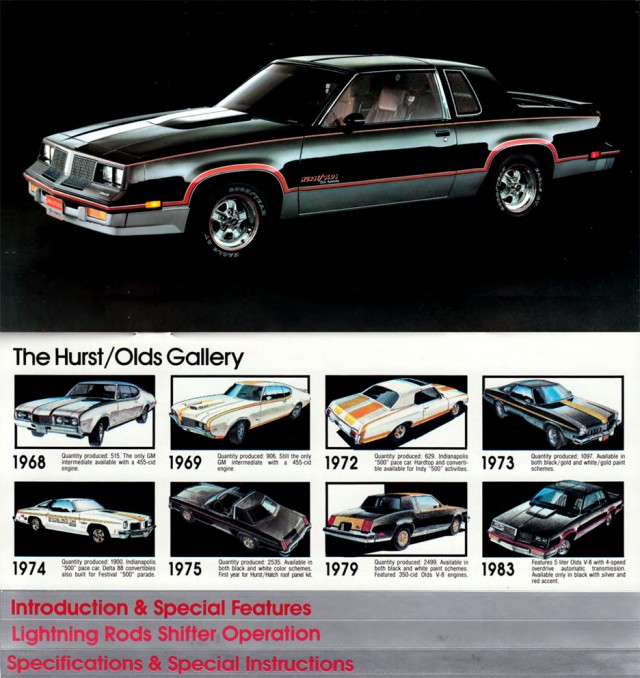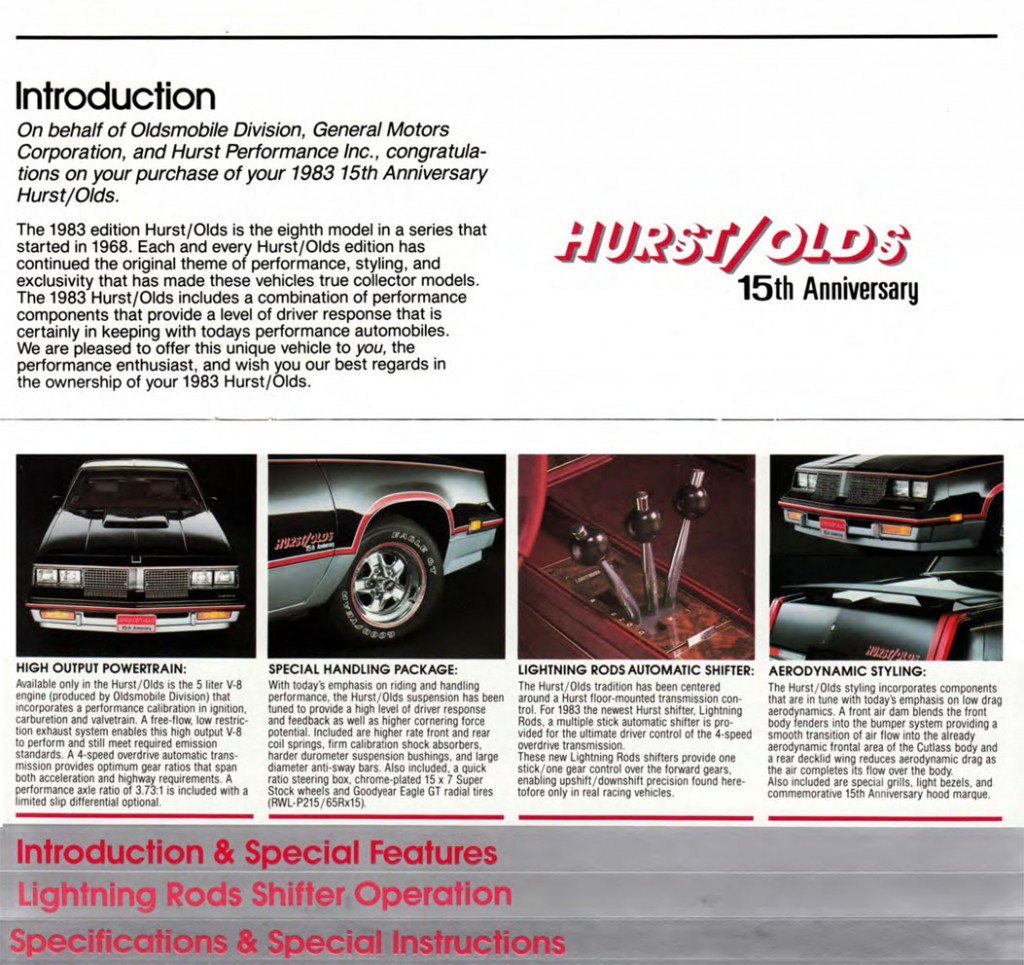 After a three year production break, GM revived the revered Hurst/Olds name for a 15th anniversary model in 1983 with the 5.0L 180hp/245lb-ft "VIN-9" V8. The crazy looking "Lightning Rod" shifter setup was meant to make your average consumer feel like Cole Trickle but my guess is that is just scared this hell out of a lot of folks. Basically a mechanical version of the manumatics stuffed into the majority of modern cars, the Lightning Rod setup allowed the driver to use a separate shifter for each upshift. If that sounds confusing you're not alone but the shifter has proven very robust over the years, so maybe, just maybe they were onto something.
However, replacement shifters and parts for them are so rare they might as well not exist, so if something breaks, the driver is in for a long day/month/year. Odd as the setup was, demand was so high they brought it back the following year with a stronger 8.5" rear end, also found in the Buick Grand National. I remember a guy in my hometown had a '83 which was black with silver rocker panels, pretty sure he had straight pipes on it as it would rattle the windows at the elementary school when it went by, but then again that building was 100 years old so I suppose it could have been the stock exhaust.
Like so many parents of the era, Oldsmobile and Hurst went their separate ways and from 1985 'til the end of the G-body run 3 years later Oldsmobile made the 442 their sportiest option. These years are the final ones of the 442 option worth mentioning, it was offered as an option for the '90-'91 Cutlass Calasis but that thing was FWD and ugly as hell so we can just forget about it, most everyone has anyway.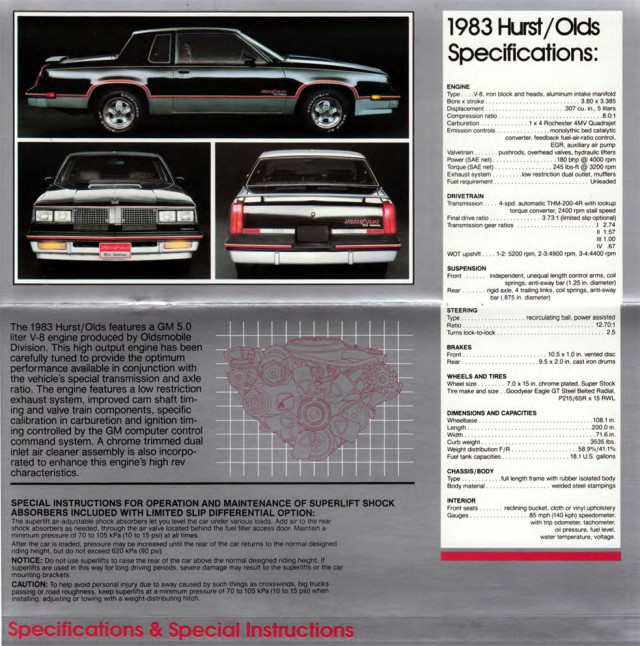 If you're in the market for something really different, a Malaise Era car certainly fits the bill and will stand out in all the wrong ways but I think there's something charming about that. Everyone is so hung up on driving something cool these days, these cars are 100% not cool but they do deserve some recognition for doing their best in a time when culture threw in the towel. If this post has piqued your interest and you've got some Van Halen tapes that ready for action, check out this example in Wahoo, Nebraska. If ever there was a great story to be told about where you bought your Oldsmobile Cutlass Hurst/Olds, I think this would be it.
"Where'd you get that automotive manifestation of 80s hair metal?"
"Sid Dillon's in Wahoo, Nebraska, why?"
1983 Oldsmobile Cutlass Hurst/Olds on Cars.com
More Malaise Era Oldsmobiles from AutoTempest
*booklet images courtesy of Oldsmobile