Future Used Car Review: 2016 Nissan 370 Z Nismo
September 15, 2015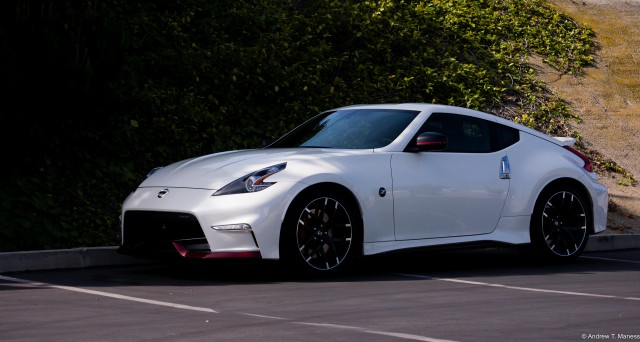 High strung, that's how I would describe the 2016 Nissan 370Z Nismo that I spent a week with. It's a stiff car that offers a rough ride, and makes no apologies about doing so. It shouldn't have to either, I mean this is a Nismo tuned "Z" car for cryin out loud, since when does a car like this need to have a soft side? This is a factory built track toy, singular in purpose, devoid of any aspiration to be more than the sum of its parts. So why isn't it more popular with the hardcore enthusaist crowd? Why aren't Nissan fanbois lining up around the block to get their hands on a beefed up Z with 19″ Rays, a Nismo tuned engine, a Nismo tuned suspension, and a viscous limited-slip diff? A straight of the box weekend racer, that's what this car is, and yet the very crowd it is intended for hasn't accepted it with open arms. Despite being an eye catching car that offers up an enjoyable driving experience, it has been all but completely dismissed by the automotive press, and consumers alike.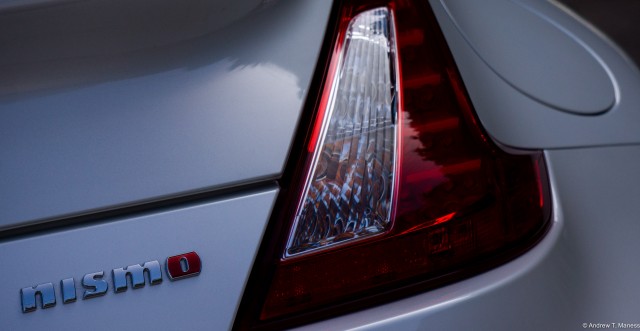 You hardly ever hear anything about the Z in general anymore, save for the occasional article guessing what the next generation will look like. Why has this legendary model been forsaken in recent years? You could make the case for the overall dilution of the Nissan brand causing irreparable damage to the legacy of the Z. Their sports car philosophies used to influence the rest of the lineup, but in recent years the softness of their mainstream products trickled over to the sportier offerings. On top of that, new competition popped up, cars like the Hyundai Genesis Coupe go right at the Z, and have had great success in luring buyers away from the more established nameplate. It's obvious that the current Z is long in the tooth, and with a replacement still a ways off , one has to wonder if it is too late. The Nissan faithful grow thinner in numbers by the day, and by the time an all new Z comes around, who knows how much better the competition will have become.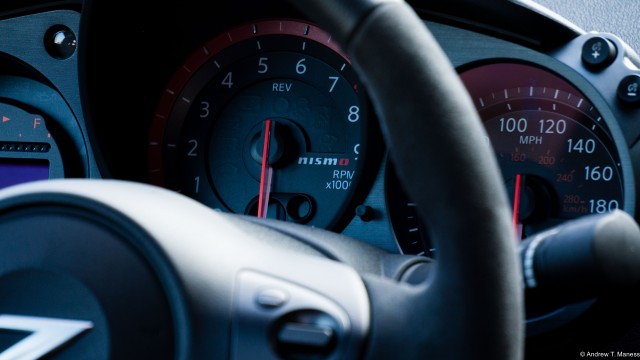 Though not in the same bracket power wise, the BRZ/FRS twins are spiritually similar to the Z, and can be had for a fraction of the cost. If there's one thing that kept grounding the experience of driving this Nismo tuned rocket, it's the number on the window sticker. $46,835 is too much money for this car, I don't care how much racing tech is included. I'd love to play devils advocate and say that there's some value in there given that it's cheaper than building, and maintaining a track weapon from scratch. I would really love to do that, but I can't. The problem with this car is that it is simply overpriced. Nissan thinks that because there are a few drops of nostalgia left in the Z bucket they can still sell the car for a premium. A base 370 starts at $29,990, tack on the Nismo Strut and Spring Kit ($840), and Nismo sport exhaust ($1,850), and you're at $33,505. Is there another $13k worth of equipment in the Nismo edition car? I'm sure that if you priced out all the components they'd add up quickly, and it would be close, but from a buyers standpoint the value isn't there. The alcantara Recaro racing seats are nice, as is the more aggressive look of the exterior thanks to Nismo aerodynamic body design, but are those things $13k nice?
Underneath the hood it's still the same 3.7 litre V6, mated to the same 6-speed manual transmission. Yes, Nismo has squeezed an extra 18hp out of the venerable VQ V6, bringing power up to 350 from 332, but is that bump in power worth all that money? The value certainly isn't found in the signature red engine cover, polished exhaust tips, or Nismo branded floor mats. I know Nismo's engineering is solid, but I also know that there's no reason for it to come at such a steep price, especially when the rest of the car is just as dated as the other models.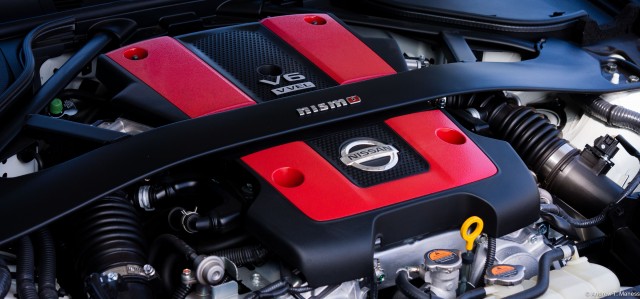 As you might have guessed, things inside the Z feel quite cheap, from the bargain basement leather shift knob, to the dash surfaces, and everything in between. It looks old, not classic, but old, and by comparison the Genesis Coupe interior is an exercise in modernity. I could never quite get comfortable in the Recaro seats, and trying to do so was incredibly frustrating. I know having manually adjustable seats in there is part of the hardcore race car aesthetic, and I can live with that. What I can't live with is making adjustments with knobs placed on the side of the seat that are both difficult to reach, and to turn. It's 20 freaking 15 Nissan, use levers, or make the seats electronic, and find somewhere else to shave off weight.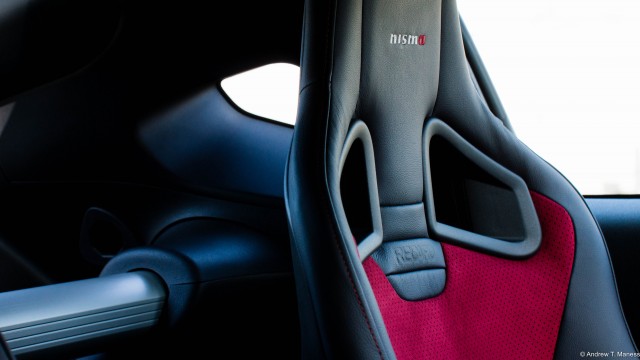 On the bright side, the alcantara wrapped steering wheel is a nice thickness, shame it's not connected to a better steering system. The electronic drive-by-wire system leaves a-lot to be desired in the communication department. I'm going to give myself the benefit of the doubt and say that the constant corrections I had to make while driving the Z, both in spirited situations and on the street, were due to the systems limitations, not my own skills. For a car that's geared towards a very specific audience, it doesn't do a great job of executing the things that audience will want. I repeatedly found the speed sensitive power steering to be intrusive, and not in line with the type of driving situation I was in. At least the sport brakes are damn good, I guess high rigidity brake hoses and R35 special II fluid really does make a difference.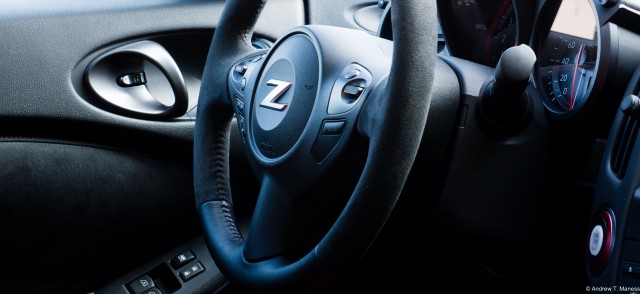 The last place that I can think of that would hold the value of in the 370Z Nismo would be in the fun department. I'll admit, I did have a really good time wringing this car out up in the canyons. One morning I was joined by a friend in his 991 Carrera, and he remarked how impressed he was with the capability of the Z. Alongside his 911 the Z didn't even look out of place, a different approach to styling sure, but in terms of outright curb appeal, it's right up there. For a brief period of time I had a blast taking advantage of the Synchrorev match system, which effectively allows you to focus solely on the steering, and braking portion of the driving experience. However, I got bored with it pretty quickly, and went back to doing my best Senna impersonation, which as flawed as it may be, at least I'm trying. There is undoubtedly a large swath of consumers who will love the computer helping them out with shifts during spirited drives but I'm not among them. In fact I found the system to be more useful in traffic than in the canyons. That was a particularly nice surprise because driving the 370Z Nismo around the city isn't a fun experience. If you recall I mentioned that the car is high strung, rigid, and stiff. Basically, it's not comfortable to drive, and I think that's because it's not comfortable with itself. There's a really great car inside there somewhere, it's just going through a weird phase in it's life. Could it be more fitting that the Z is 40 years old? Here's hoping that this legend manages to handle its midlife crisis and emerges with a new sense of purpose, and some clarity.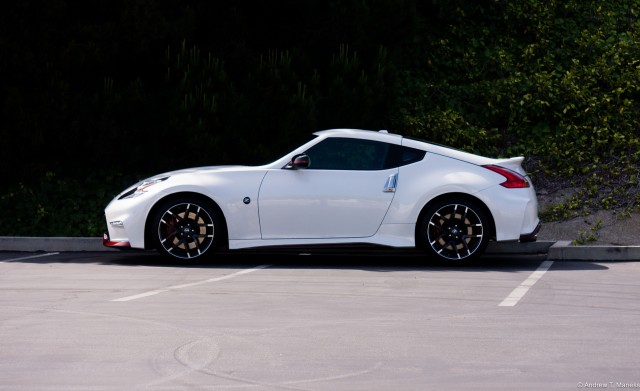 2016 Nissan 370Z Nismo Tech 6 M/T
Engine: 3.7-liter V6
Transmission: six-speed manual
Horsepower: 350
Torque: 286 lb-ft
0-100 mph: real quick
MPG: 18 city, 26 highway, 21 combined
MSRP: $46,835 as tested