Future Used Car Review: 2016 Cadillac Escalade Platinum
November 11, 2015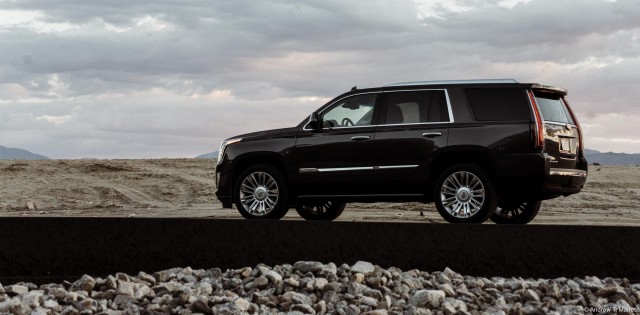 Flying from Los Angeles to Phoenix will run you around $200, and suck just under 3 hours out of your day, if you factor in airport arrival time etc. Driving takes around six and a half hours, and will run you around $120 in fuel round trip. If you have the time to spare, it's a no brainer which mode of transportation is the better option, especially if you're driving a fully loaded luxury SUV. As it just so happens I recently found myself in possession of such a vehicle, and with just enough time to spare to make the trek east to Arizona for a family visit, and retrieval of a sizable heirloom.
The decision to go was a last minute one, and had I planned my departure time better, the initial part of the journey would have gone much smoother. The extra hours spent slogging through eastbound mid-afternoon LA traffic were unpleasant, but they were a nice introduction to the capabilities of the adaptive cruise control. Just a few miles after merging onto the 10 East, I dropped from cruising speed to a crawl, and eventually to a stop. The adaptive cruise handled this transition safely, but with the smoothness of a student driver experiencing Brembos for the first time. The system was needlessly abrupt both in braking, and acceleration, but most of all it was loud. A variety of mechanical noises emanated from the bowels of the car during hard braking, and I found myself wondering if I should take back control from my robot overlord. I chose to let the system do its thing, and from Los Angeles all the way to Palm Springs, the Escalade handled acceleration, and braking on its own without issue.
With the sun quickly dropping behind Mt. San Jacinto, I pulled off to snap a couple photos of the Escalade before total darkness washed over the desert. As luck would have it, I came across a street that led to a vacant lot being prepped for construction, just minutes from the freeway. I walked around the big brick on wheels trying different angles at a variety of distances, and as the light faded, I was treated to a dramatic transformation.
During daylight hours, the Escalade is an imposing vehicle. It rules the streets of well to do neighborhoods, and private school parking lots with authority, though I doubt anyone would argue that it looks particularly interesting while doing so. But then twilight comes around, and the Escalade transforms into something else, something attractive, something surprisingly refined. Body lines lost during the harsh light of day now find themselves quite pronounced, and shadowy creases pull your eye to parts of the vehicle you normally wouldn't look twice at. The LED accent lights pop on and distinguish the edges of the vehicle both up front, and out back. It doesn't look like a flying brick anymore, it looks chiseled, like someone put it through P-90X in a matter of minutes. I pop off a few more photos, the evening winds pick up, and my surroundings abruptly become less hospitable than they were just 20 minutes prior.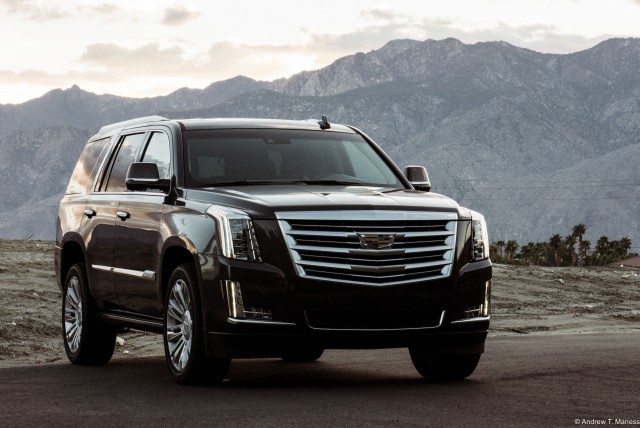 After pausing to take in the whole scene for one more moment, I hop back in the Escalade, and am welcomed into a warm cabin that will be my sanctuary for the next 4 and a half hours. Crossing any lonely stretch of road under the cover of darkness is an experience worth having, but doing so in a supremely opulent vehicle like the Escalade Platinum will make it particularly memorable. The five "crystal" lenses that make up the headlights bathed the pavement in crisp white light, and I thought to myself that they were the best I've ever had at my disposal. In fact, I was so impressed with them I did a bit of homework afterwards, and found that they were the first headlights to ever receive an "excellent" rating from Consumer Reports. I couldn't agree more with this assessment, and particularly the quality of the low beams, which in a pinch, could be used to light a field for a night game.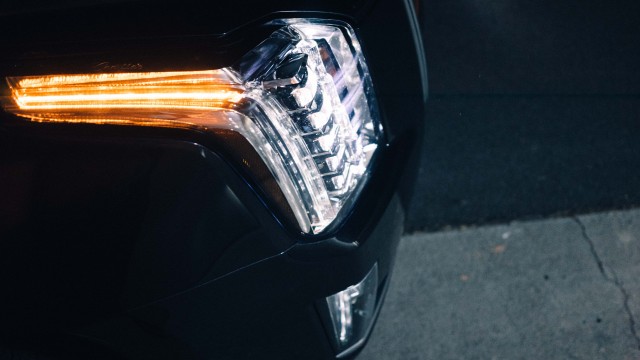 With the path ahead more than sufficiently illuminated, and the security blanket of adaptive cruise control wrapped around me, I was able to relax, and enjoy the creature comforts that make the Platinum top dog in the Escalade line. I spent the majority of the drive alternating between the four different massage functions, and had I had a passenger with me, they would have been able to do the same. The lowest setting for seat heat kept me plenty warm, while the center console cooler kept my sparkling water cold. Every surface I could lay a hand on was wrapped in buttery soft "Tuscan Brown" leather, and as my friend elegantly put it "they even sueded the roof!". It's worth mentioning that the abundance of high quality leather and exotic wood make the interior of the Escalade Platinum smell incredibly good. Every time I opened the door I was greeted by an aroma that conjured up images of Ron Burgundy relaxing in his study with Baxter at his side. Aesthetically, the cabin is American luxury at its absolute best; plush, spacious, and not at all stuffy.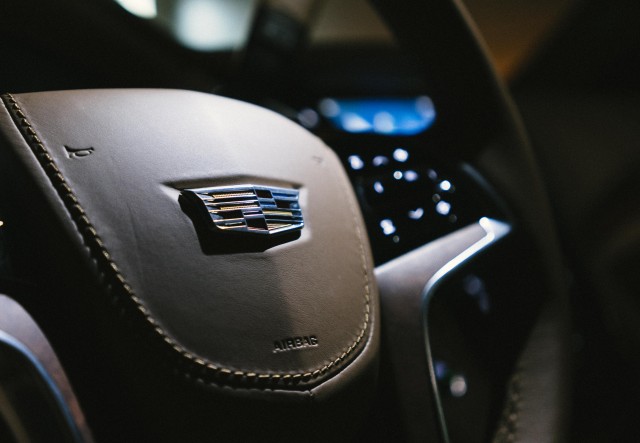 Aside from the noisy groans of the adaptive cruise control braking system, the only black spot on the reputation of the Escalade Platinum is the CUE infotainment system. Cadillac says the new CUE is better/faster/stronger than the old CUE system, and if that is the case, I certainly couldn't tell. CUE is as glitchy as first generation BMW iDrive or *gasp* Ford SYNC. On a number of occasions it switched audio sources for no apparent reason, other than perhaps it didn't care for the music I was listening to. It's not the end of the world to abruptly go from enjoying the latest Blitzen Trapper album via. Apple CarPlay, to hearing the crackle of AM radio, but it's pretty damn annoying, especially at this price point. Getting their gadgetry sorted is the last piece of the puzzle that Cadillac needs to get in place before they can truly be whole. With another freshly updated version of CUE rolling out with the XT5 crossover, perhaps that will come to pass sooner rather than later, for their sake lets hope so.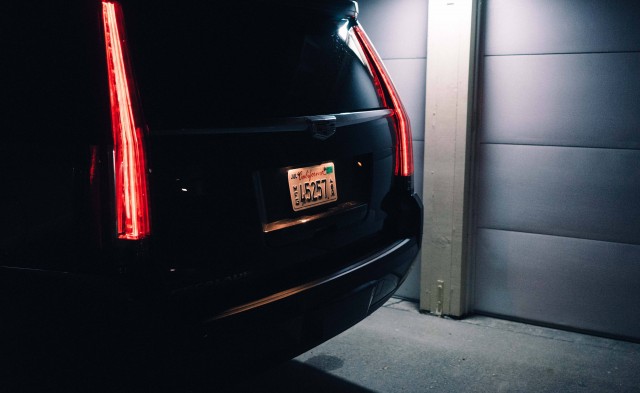 The last half hour of my journey was on a four lane local road that wound through lightly developed sections of the desert, in other words, the perfect place to see what "Sport" mode in an Escalade feels like. Yes, this 5,815 lb SUV has a sport mode, and to my surprise, it's not entirely out of place. With the push of a poorly placed button, the magnetic ride control tightens up, and you can work out the 6.2L V8 with a bit more confidence. Given the way things are headed, I won't bat an eye when an Escalade V-Sport hits the market. Modern luxury vehicle buyers live by the "more is never enough" mantra, so even though 420hp and 460 lb-ft of torque is plenty, an increase in power is surely in the pipeline. Personally I'll be more interested in seeing the refreshed XT5 get the V treatment, which I have to assume is also in the cards.
As I wound through sweeping curves, and dips, I contemplated the true purpose of a vehicle like the Escalade. On the one hand it's a crass declaration of importance of one kind or another, and on the other, a case study of American tastes in the modern age. It's as attractive as it is obnoxious, the kind of vehicle that you know is ridiculous, but you want it anyway. I understand why pretentious Prius owners would sneer at the very idea of the Escalade, but I'd be quick to remind them that some people occasionally need up to 94.2 cubic feet of cargo space, or the ability to tow a maximum of 8,300 lbs. Are there other vehicles that offer the same functionality? Absolutely, and two of them are made GM, but they don't measure up in the luxury department. People don't need 3 rear entertainment screens with wireless headphones, or 22″ inch wheels with chrome inserts, but a-lot of people want them. After spending six and a half uninterrupted hours enjoying every bit of comfort the Escalade Platinum has to offer, I totally get it, it's a really nice way to travel. Is it $94,830 nice? Oddly enough, I think it is. I've been spending more, and more time in vehicles in that price range, and the Escalade feels every bit as premium as the others do. What it comes down to is whether you truly need the capability that it offers, because if you don't, I have a laundry list of better ways to spend that kind of money, and it starts with a two door sports car built in Stuttgart.