Want A Deal On A Land Rover Discovery Sport? Try A Jeep Cherokee Trailhawk
December 17, 2015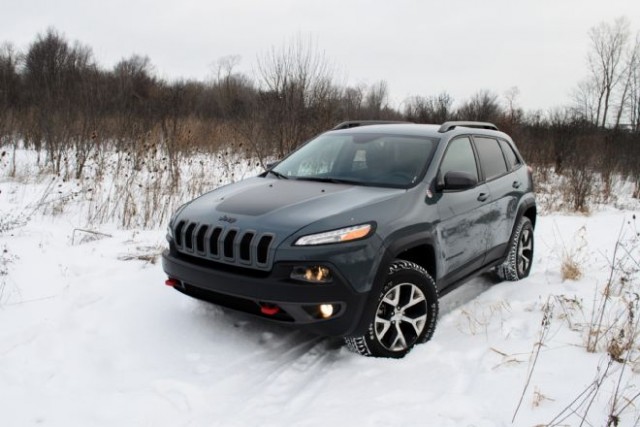 Alright we can get this out of the way right up front, the Land Rover Discovery Sport is a much better looking vehicle than the Jeep Cherokee Trailhawk. However, if you want a deal on a formidable off-road vehicular companion, that's loaded with all the modern creature comforts one could ask for, then you're going to have to make peace with a less than stellar appearance. If you aren't in the market for a tech laden ride, then by all means, go for the Land Rover, they're reasonably priced for a base model. It's when you start ticking the Disco's option boxes that alternative vehicles start making a lot of sense. A fully loaded Discovery Sport HSE Luxury easily pushes up over $50k, whereas a fully loaded Cherokee Trailhawk comes in at about $10k less.
There are a myriad of options one could do without on the Discovery that would bring the price down, the $1,800 Waltimo Grey premium metallic paint for example, but even if you begin to strip away the frivolous aspects of each vehicle, the Cherokee still has the edge. Only when you opt for a Discover Sport SE will you undercut the price of a loaded Trailhawk, and at that point you're going to be missing out on a number of options like Xenon headlamps, fog lamps, a panoramic sunroof, not to mention an enjoyable infotainment display.
The standard 5″ display in the Disco is no match for the 8.4 inch unit in the Cherokee, and you don't even have to go in for a loaded model to get it. Do away with the Technology, Comfort/Convenience, SafetyTech, and Cold Weather packages, and you're down to around $35k for a vehicle that still has heated seats, a heated steering wheel, leather, and the aforementioned panoramic sunroof. Even if you're a luddite, the Cherokee remains a really solid value compared to the Discovery Sport.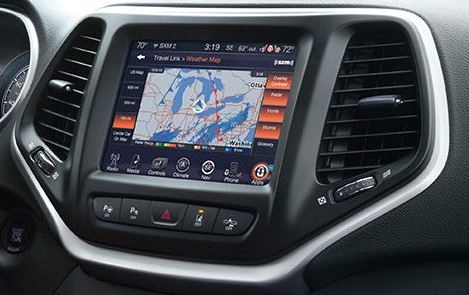 So, besides curb appeal, why would anyone opt for a Discovery Sport? I've been in both these vehicles, and the difference in the quality of the interior materials is marginal at best. The Cherokee Trailhawk feels like an upmarket Jeep, and the Discover Sport feels like a downmarket Land Rover. Although that might sound like a big knock against the Disco, it's not. Even a basic Land Rover interior is more appealing than much of the competition's best, but Jeep interiors are markedly better in the past few years, which puts them in the upper tier of the segment.
Behind the wheel the similarities continue, with both vehicles falling into the "it turns left and right, goes backwards and forwards" category. In all seriousness, I had no preference between the two so far as on-road driving was concerned, and surprisingly enough, I didn't have a preference off-road either. My time in each vehicle was limited, but since these are modern vehicles, it's not like there's a learning curve. Both vehicles are easily placed where you want them to be when traversing off-road terrain, though the fully loaded Discovery I drove was a bit easier because of the forward facing camera, aka. cheat mode. What you really need to take into consideration is what's under the hood of each vehicle.
At the moment, the only engine option for the Discovery Sport is a turbocharged inline 4, that makes 240-hp and 250 lb-ft of torque. The Cherokee can be had with either a 2.4L inline 4 that makes 184 hp, and 171 lb-ft of torque, or a 3.2L v6 that makes 271 hp, and 239 lb-ft of torque. For the purposes of this comparison, we're talking about the latter as the numbers are much closer to those of the Discovery. The dimensions of the two vehicles are nearly identical, 181 x 75 x 68 for the Land Rover, 182 x 73-75 x 66-68 for the Jeep.
What's funny is that Land Rover offers a folding 3rd row seat for the Discovery, as if anyone but small children could fit back there. Sure, it'll work in a pinch, but with the 3rd row up there's hardly any cargo space, and when was the last time 7 people went somewhere without bringing a bunch of stuff along? If you regularly need seating for 7, step up to a regular size SUV, it's a simple as that.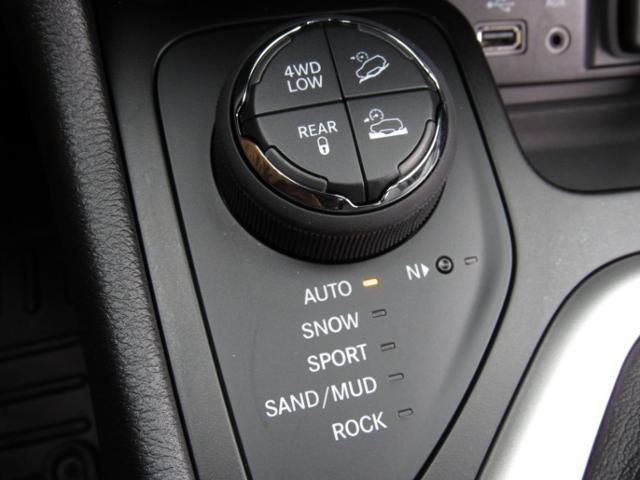 You might be wondering why one would compare a Cherokee Trailhawk, to a Discovery Sport given that there are a number of other in segment competitors. The Hyundai Santa Fe, Toyota Rav4, Kia Sorento, and Honda CR-V all do battle in this segment, however they all lack the key feature that makes the Trailhawk legitimate competition for the Discovery Sport, off-road capability. Each of those vehicles will likely never see anything worse than a rutted dirt road, and that's a good thing because they don't have the chops to handle anything more.
The Trailhawk on the other hand has selectable Rock/Snow/Mud/Sand modes, a lockable rear differential,  skid plates, and a 56:1 crawl ratio, all of which allow for serious control off road. In addition to a 4WD system with situational awareness, the Trailhawk has a factory 1 inch lift, 29.9 degree approach angle, and 32.2 degree departure angle. What that translates into is the ability to navigate terrain that the rest of the crossover, errr, sorry, compact SUV segment, would look at and collectively soil themselves.
Even if you step into the luxury compact SUV category, you won't find any vehicle that can match the Cherokee Trailhawk's off road prowess, other than the Discovery Sport of course. The Audi Q5, Mercedes-Benz GLC, and BMW X3 will do a better job of coddling you, and impressing the in laws, but not one of them will ford 20 inches of standing water like the Trailhawk. Actually, if you have the right in-laws, maybe they will be impressed, after all, the family that goes 'wheelin together, stays together.
Jeep Cherokee Trailhawk found on AutoTempest