Want A Deal On An Audi Allroad? Try A Volvo XC70!
January 28, 2016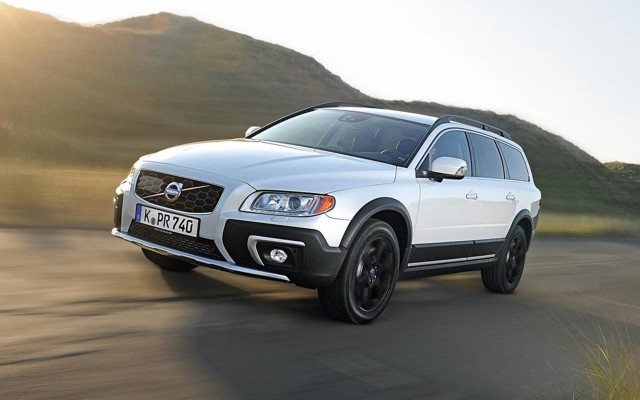 The Audi Allroad is a great vehicle, I count myself among those that think so, but as great as it is, the damn thing just isn't a good value. With an MSRP of $42,700, the Allroad is automatically out of reach for many people, especially when you consider how poorly they lease out, and leases in this segment are what most people are looking for. When sales of the A4 Avant began to wain, someone at Audi had the foresight to realize that not only would the car sell better with a lift kit, and some body cladding, but they could charge more for it because it was now a crossover, not a wagon. On top of that, Audi also figured out that there were diehard Avant fans who didn't like the two tone paint that was standard on the Allroad, so they made a full paint finish a $1,000 option for certain colors. Those 3 colors are of course $575 metallic options, so right off the bat if you want an Allroad that's all one color you have to shell out $1,575.
You can't blame Audi for how they have setup the pricing on the Allroad, after all, they're just trying to run a business. As long as demand for luxury crossovers(yes, it's a crossover) remains high, which it will, don't expect to see attractive offers on it anytime soon. Currently they're offering a $1,000 incentive to owners of a BMW, Mercedes, Lexus, Acura, or Toyota, how very generous of them. Instead of taking the tiny bone Audi is willing to throw you if you own a vehicle from one of those brands, consider the alternative, consider a Volvo XC70.
If you'd forgotten about the XC70, you'd be forgiven, Volvo has only recently started to get their shit together, and the XC70 hasn't exactly been at the forefront of the push to create awareness about the brand. The beautiful XC90 and S90 are the headliners currently, but Volvo does have an excellent supporting cast, which the XC70 is still an integral part of. I think most people have just forgotten that Volvo makes the XC70, which is a shame because it's a solid vehicle, and a great value.
With a starting MSRP of $39,540 for an AWD equipped model(FWD starts at $38,040), the XC70 bests the Allroad on entry price, and because of Volvo's market position you'll have far more bargaining power than you ever would with Audi. It's no unreasonable to think that you could get a brand new XC70 at, or below the factory invoice price of $36,284. But spending less isn't always indicative of something being a better value, one must consider what they're getting for their money. Well, heated front seats are standard on the XC70, they're $500 on the Allroad. Audi's MMI navigation plus is $2,100, Volvo's Senus navigation is $1,410, or included if you step up to the Premier trim level, which is what I'd recommend. The middle trim level is often the sweet spot in a model range, and while Volvo's Platinum trim level is attractive, I think the Premier offers the most value.
Opting to go up to Premier trim gets you real leather vs. leatherette, a big 'ol moonroof, dark walnut wood inlays(a $350 option on the Allroad at any trim level), an adaptive digital TFT display, tinted rear windows, an auto dimming rearview mirror(absent from the base Allroad), and of course the aforementioned navigation system. An XC70 Premier has an MSRP of $42,990, just $290 more than a base Allroad. Is the tech in the Audi better? Yes, absolutely, so you definitely need to take into consideration just how much you want the latest, and greatest infotainment system, because that's really what you're paying for. Volvo's Sensus system works well enough, it's not as pretty, but it gets the job done. Besides, what more do you really need in you car besides Bluetooth for streaming audio, and phone calls, and a map to use as a point of reference? Everything else is just icing on a cake that's sweet enough already.
Looking beyond the pricing and the technology, the XC70 bests the Allroad in all the categories that buyers should care about. These cars are supposed to be for families and adventurous types right? Well the XC70 has more ground clearance, 8.3″ vs. 7.1″, and more cargo capacity, 72.1″ vs 50.5″. The XC70 wins on power as well, with its turbocharged 5cyl cranking out 250hp and 266 lb-ft vs. the Allroad's 220hp and 258 lb-ft. The Allroad does best the XC70 on fuel economy, posting 21/28 mpg vs 19/26 mpg, but it has two extra gears, and requires premium fuel while the Volvo will happily drink regular unleaded. So even though the EPA might not agree, I still give the edge to the XC70 in the efficiency department.
Finally, there's the matter of protecting your investment, which Volvo is happy to do for 4 years/50,000 miles, as is Audi. However, Volvo also offers free maintenance for 3 years/36,000 miles, while Audi offers just one year, or 5,000 miles, whichever comes first. Given that Americans average just over 11k a year, I think it's safe to assume that 5k service is going to come up much sooner than you really need it. Warranties, and service plans notwithstanding, you must consider which brand is more reliable, which is doing to serve you better in the long run. Audi is currently ranked higher than Volvo by Consumer Reports, but they're at no.4 vs. Volvo's no.12. How much of a gap there is between those 8 spots is indistinguishable, especially when you consider that because the Volvo has less tech packed in, there's less to go wrong.
At the moment you can get into an all wheel drive XC70 T5 Premier for $409/month, for 39 months, 10k miles a year, with $3,659 due at signing. Want the same deal on a base Allroad? That'll run you $421.68/month, with $5,386,68 due at signing. Keep in mind, that Volvo deal is for the Premier trim, check with your local dealer to see what kind of offers they have on a base XC70, and you'll find yourself with an opportunity to save even more money. Anyway you look at it, the XC70 is a better deal than the Allroad, and until Audi revises their pricing structure, it will remain so. Now go forth and put this newfound knowledge to good use, and get some Swedish in your life!
[cta id="1957" vid="0"]