AutoTempest's New Email Alerts Bring A Nationwide Used Car Search to Your Inbox
July 12, 2021
The used car market is going through an odd time. Limitations and difficulties on producing new vehicles have reduced dealers' inventories, which has pushed buyers to the used side of the world. There, the increase in demand has driven prices upward and caused desirable models to sell quickly, and often sight-unseen. This can make it difficult, not only to find the vehicle you want, but to find the vehicle you want for a price that you feel is reasonable. Even with a nationwide used car search, you can end up facing off against several other buyers for one vehicle.
AutoTempest is taking steps to make your nationwide used car search and shopping journey as painless as possible. In addition to the expanded search area functionality we added earlier this year, we have now added the ability to receive daily email alerts on a vehicle make and model of your choosing. After completing a vehicle search, you will now see an email alert signup module at the top of the search results. Here, you can enter your email address to receive an email with new listings for your favorite vehicle.

You can sign up to receive alerts for as many vehicles as you want, and the search criteria you entered initially will continue to apply throughout the process. If you make a purchase or decide that you no longer want to receive the alerts, every email comes with an easy one-click unsubscribe link right at the bottom. You can also turn off alerts on the search results page itself by clicking "Turn Off Alerts."
With this feature, you can be among the first people to see new, in-demand listings. Since our search tool scours several popular listing sites, including auction sites such as Cars & Bids and eBay, you'll be able to jump on the vehicle you want before the rest of the internet finds out about it the old fashioned way.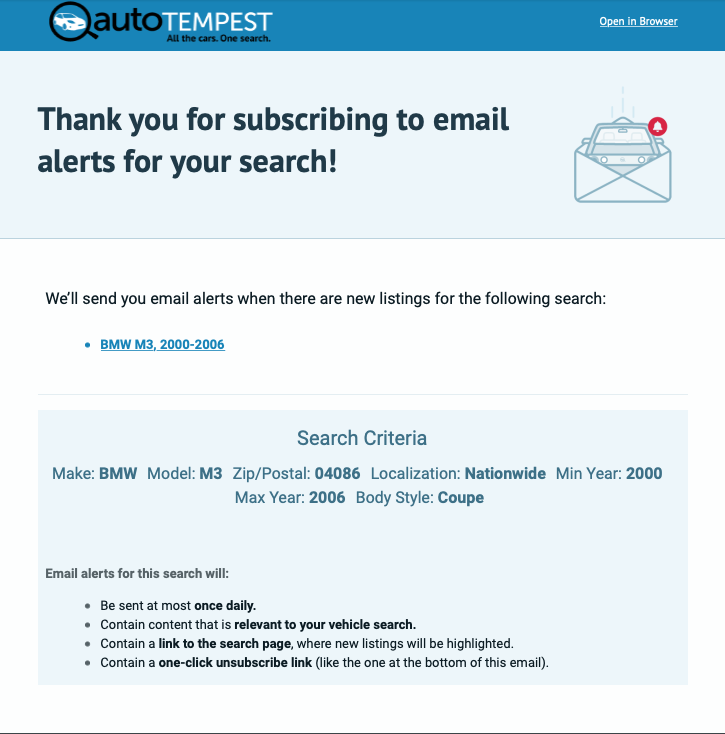 It's worth noting that, even with the alert feature, it's a good idea to check the site occasionally for your nationwide used car search, especially if you're searching for an in-demand or rare model. We also offer comparison links to Craigslist and Facebook Marketplace on the main AutoTempest search tool that can be used to link directly to either site for quicker searching and easier vehicle location.