Future Used Car Review: 2015 Buick LaCrosse
September 10, 2015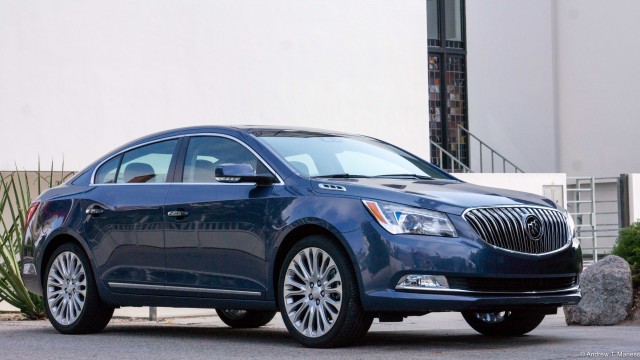 Buick is big in China, like sells four times more cars there than they do here, big in China. They're popular across the board, but in particular with the rapidly growing middle class. In China, a Buick is as much of a status symbol now, as it was here in the United States back in the day. So how can Buick get back to being part of the legitimate luxury car discussion on its home turf? Building cars like the 2015 LaCrosse is a damn good start.
When the LaCrosse arrived, I spent about half an hour walking around it, inspecting the many creases in the sheetmetal, following lines to see where they led. It quickly became apparent that from 2 feet or 20, this is a good looking car. The design isn't revolutionary, the belt line is higher than that of Buick's core American audience, but somehow it works in this application. The LaCrosse has an imposing presence and a surprising amount of curb appeal. Every time I picked up a friend to go somewhere it was the same reaction, "This is a Buick? Damn, they've stepped their game up". Friends were genuinely shocked that this stylish midsize sedan was built by the same brand that makes the Encore and Enclave, or at least they would have been if any of them knew what an Encore or Enclave was.
Everyone loved and commented on the 20" wheels, which certainly contribute to the bold look of the car, but it was the Atlantis Blue Metallic paint that really got all the attention. I have to say, out of all the new cars I have driven, and there have been many, the paint on this LaCrosse is my favorite. It changes with the light conditions, sometimes with angles, and no matter what, it still looks fantastic. If GM made this paint available for the Corvette, I'd do terrible things to get my hands on one and so would you.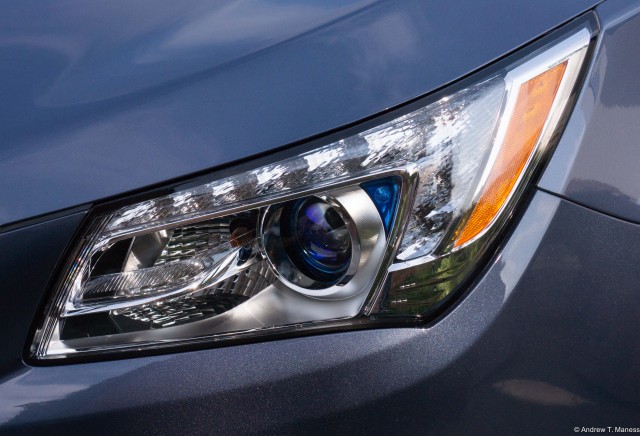 These days I find it easiest to grade a car on what it doesn't have, rather than what it does. Option sheets have become quite lengthy and frankly, I don't think anyone would be surprised to find that Buick has a standard backup camera in 2015. My tester was a Premium 2-1SR trim level car and the only package not selected was the $2,495 Ultra Luxury Package. The ULP, as it shall henceforth be known, would have added the following: Sangria semi-aniline perforated leather seating, real Tamo Ash wood trim, leather wrapped center console, door armrests, and heated steering wheel, as well as a microsuede on the headliner, pillar coverings, and vanity mirrors. Would it have been nice to have real wood trim in the nicely sculpted cabin? You bet, but I didn't lament the exclusion of the ULP for a single moment, and that's a true testament to the quality of the interior design.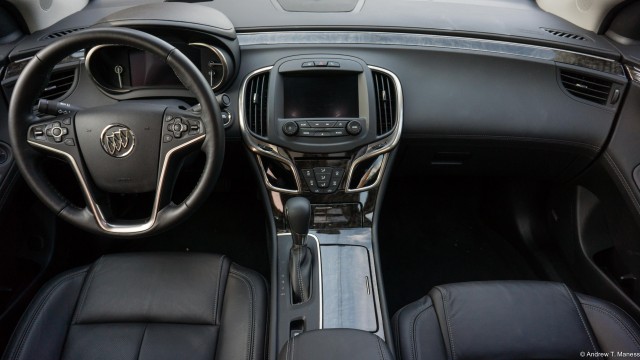 A good car makes necessary driving a pleasant experience, but a great car makes you want to go drive for no reason in particular. Each night I had the LaCrosse I found myself looking for reasons to leave the house. For the record, I have an extremely comfortable couch and a TV that I get limited time to enjoy, so evenings in are precious to me. Even so, I couldn't shake the feeling that I'd enjoy being out in the world with the LaCrosse, even if I had no destination. It doesn't beckon to you the way a sports car does, so much as it urges you to come and hang out for awhile. I suppose enjoying an 11 speaker BOSE surround sound system while your body is being cooled by ventilated seats plays a part, but there's more to the allure of the LaCrosse than toys. A bounty of creature comforts are nice, but a luxury car can't solely rely on them for success, not in a marketplace where even entry level vehicles come well equipped. They must bring something more to the table and the LaCrosse does, I just wish I could put my finger on what it is.
I've had much nicer vehicles in the garage that I left idle, including ones from within the GM family of brands. For whatever reason, I just wanted to spend time in the Buick cruising the streets of Los Angeles. One minute I'd be listening to classical scores from my favorite films, the next I'd be enjoying XM 49, aka. Soul Town. With the outside world completely sealed off by Buick's QuietTuning technology, the cabin of the LaCrosse is a perfect place to listen to music, and paired with the smooth ride I felt like I was being treated to something special. My friends agreed, and if there's one crowd that's tough to impress with a midsize sedan, it's 20 somethings.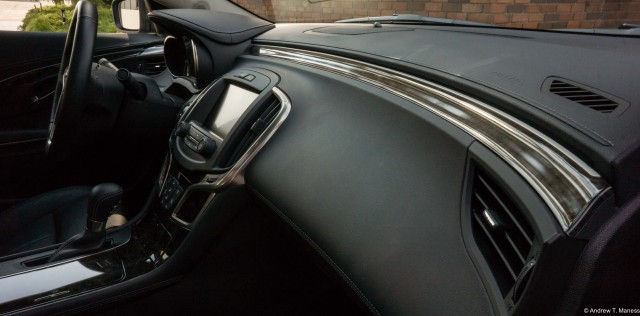 It's no secret that Buick would love to get young people interested in the brand, the existence of the Verano and Encore are proof of that. The thing is, I'm not sure they need to scale down in order to do it. If Buick dropped the aforementioned vehicles from their lineup, hardly anyone would bat an eye, least of all anyone under 30. The key to their success in the U.S. is not making Buick cool, Buick will never be cool, but it was once classy, and could very well be again. A lot is riding on the Avenir concept and whether something at all resembling it will make it into production. Lets hope that it does because if it's anything like the current LaCrosse, we'll be in for a real treat. Of course that's provided that it doesn't have those damn fake fair vents that somehow, even in this day and age are STILL glued onto the hood of the LaCrosse. How is that still a thing?!
2015 Buick LaCrosse Premium II
Engine: 3.6-Liter SIDI V6
Transmission: Six-Speed Automatic
Horsepower: 304 @ 6,800 RPM
Torque: 264 lb-ft @ 5,300 RPM
Drive System: FWD
MSRP: $45,460 (as tested)